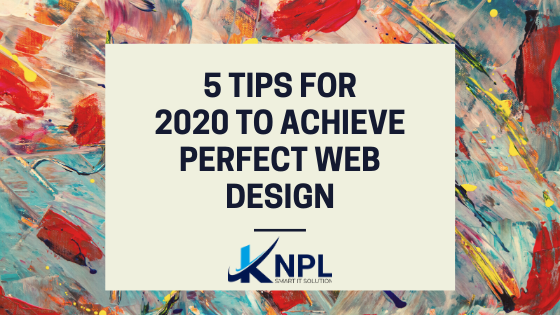 Achieving Perfect Web Design In 2023 with These Amazing 5 Tips
Most of the study says that "A website user takes only 15 seconds to decide to stop on your  website or click back button." So you have only 15 seconds to attract your user, and if you have not done this in 15 seconds you lost your user.
Perfect web design is a combination of layout, color, framework, typography, images, video, content, motion, graphics, responsiveness, page load, and other many things. In the year 2020 web design is also.
Here are some points that are an important factor in web design:
Responsive Web design
Fast load speed
Perfect color combination
Images and Video
AMP pages
Responsive web design
In 2019, 48% of users are using mobile devices and tablets to surf the internet and this will be increasing to 70% in 2020. These days almost every new customer wants a responsive version of their website. Websites that are responsive automatically adjust their design, content, and size of images according to the device screen.
Read More: How to Build a Strong Online Presence for Your Business in 2023?
Simple + Unique web design
The website looks so good when it looks simple but they look awesome when it looks unique from other websites. Most website users stay more time on a unique design website than a simple look website. A web designer needs to create a unique design with a user-friendly layout.
Perfect color combination
Choosing the perfect color scheme is make your website more attractive and memorable to your visitors. Choose three or four colors for a website. Find Primary and secondary colors of the website and two more for buttons, outlines, popups, headlines, and other small parts of web pages. most web designers choose the same color for their logo and website, it looks more professional.  So choose the color wisely it's really important for the website.
Images and Video
Images and videos are more productive and informative than text. Most users click the back button on a website within 3 to 5 seconds, so we use background videos in the header related to our service. Or create some slide shows with attractive pictures that our visitors find more attractive. We can also use images and animated or product review videos on our website.
AMP Pages
Accelerated Mobile Pages is an open-source initiative project designed to optimize faster mobile pages. AMP page is load faster because it's created with basic HTML AMP Standard code. AMP page gives a better and fast speed experience to the user. We can simply design a WordPress AMP page with a plugin.
Conclusion
Web design is not an easy task. But if we plan from start to end it is complete with perfection. If you are looking for a web designer in Sikar you can hire us. We are creating a perfect design according to business.